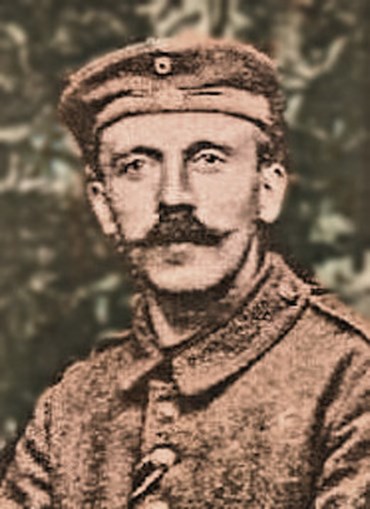 This is one of the most controversial stories to have come out of Liverpool from World War Two: I shall leave it up to you to decide whether or not you believe it ...
It is clearly the case that Liverpool has always been home to many wonderful people and to quite a number of eccentric characters as well. Sadly, the City has also had its share of some quite unsavoury people. However, the worst of these residents may well have been the 20th Century's greatest villain, Adolf Hitler.
The father of the German Dictator was named Alois Schicklgruber (1837–1903) but, believing this surname was preventing him from advancing in his career as a middle-ranking clerk in the Austrian Customs Service, in 1876, Alois changed his family name to 'Heidler'. However, another clerk, this time in the Registrar's Department, inaccurately wrote the name down as 'Hitler' in the official records, and so it remained.
Alois, who was a notorious womaniser, married three times, the last time to Klara Poelzl (1860-1907). They had six children, one of whom, born on 20th April 1889, was Adolf. The family had moved to the important Austrian town of Linz, in 1894, and this was where the boy was to spend most of his childhood.
Adolf Hitler was a sickly child who was doted on by his rather ineffectual mother. She was completely dominated by her husband, who had no interest in his children and spent most of his time in the beerkeller, or keeping his many hives of honey bees. By the time Adolf reached his late teens he had grown into a moody, irritable, anti-social, and permanently dishevelled young man. Adolf's miserable and angst-ridden personality seems to have been largely innate, but his negative temperament was certainly exacerbated by his many disagreements with his overbearing and bullying father. If Alois communicated with his children at all it was mostly to persistently yell at them.
Records of Hitler's early life are limited because, once he became the 'German Fuehrer', he had most of them destroyed or re-written. What documents do survive confirm that his mother died of breast cancer, in 1907, with a grief-stricken Adolf at her bedside. Records then show that, by 1908, Adolf Hitler had moved to Vienna. He had set up home here to study, in the hope of fulfilling his ambition of becoming a great architect and painter. However, young Hitler simply was not talented enough, and was refused a place at the Viennese Academy of Fine Arts. This rejection added to his resentments, as did the fact that he then had to take a series of menial jobs in the Austrian capital, simply to keep from starving.
There are a number of telling gaps in Hitler's personal history, particularly between the years of 1912 and 1914. It is now generally accepted that he was about to be called-up for national service in the military; something he really did not want to do, so it is likely that he simply ran away. Many people now believe that, in fact, in November 1912, and at the age of twenty-three, Adolf Hitler left Vienna and travelled to England.
At least, this is what a type-written manuscript seems to say. This set of papers is alleged to have been written, sometime in the 1930s, by Hitler's sister-in-law, Bridget Hitler (1891-1969), and it was discovered in the New York Public Library, in 1972. Signed by Bridget, and entitled 'My Brother-in-Law Adolf' (Ref No ZL-344), the accuracy of the neatly-bound pages is questioned by some but completely accepted by others. In the text is confirmation of a long-held belief that Adolf Hitler spent some of his 'missing years' in the Toxteth district of Liverpool.
By the time of Adolf Hitler's disappearance from Vienna, his half-brother, Alois Hitler Jnr. (1882-1956), had already left the family home, in 1896, at the age of fourteen. Also failing to find a meaningful career he resorted to theft, and served two prison terms as a result; one in 1900, and another in 1902. Spending some time in Paris, with equally unsuccessful results, Alois eventually came to London where he found work as a cook. In 1908, he moved to Dublin where, at a horse show in 1909, he met seventeen-year-old Bridget Dowling.
The couple had ambitions, and so they eloped to the 'City of opportunity', Liverpool. Here they ran a small restaurant in Dale Street, a small hotel on Mount Pleasant, and a boarding house on Parliament Street. However, each of these business ventures was unsuccessful, so the Hitlers of Liverpool had very little money. Alois Jnr. and Bridget rented a flat at 102 Upper Stanhope Street, which runs off Princes Road in Toxteth. It was here, on the 12th March 1911, that their only child, William Patrick Hitler, was born.
In her manuscript, Bridget Hitler describes how her half-brother-in-law, Adolf, came to stay with them at Stanhope Street, between November 1912 and April 1913. However, his miserable and bitter nature, as well as his general untidiness and limited level of personal hygiene, meant that he was an irritating and unwelcome guest; at least as far as Bridget was concerned.
She describes how Adolf would mope about and, when she insisted that he get out from under her feet and try to find some work, he simply wandered the streets of the great city. There is no evidence that Adolf Hitler ever took any form of work during his short time in Liverpool but, during the 1970s, when I was employed in Toxteth as a community worker, I met a number of older local people who remembered him. They confirmed (or perhaps simply repeated) many of the myths and legends surrounding Hitler in Liverpool.
They said how he was a solitary figure, drinking silently in the corners of pubs in Toxteth, as well as in the Poste House pub, in Cumberland Street in the city centre. They told me too, how he also spent a lot of time in the Walker Art Gallery, in William Brown Street. This stands adjacent to the tall, commemorative column dedicated to The Duke of Wellington.
It seems that before going into the gallery Hitler would stand gazing up at the figure of the 'Iron Duke' then, inside the Walker, he would stare intently at the large portrait of 'Napoleon crossing the Alps'. This undeniably impressive picture dominates the left-hand staircase leading up from the ground floor, and hangs today where it did during Hitler's alleged visits. Perhaps the powerful life-stories of these two, great, military leaders fuelled Adolf Hitler's own militaristic ambitions for world-domination.
It is also said that he spent hours at Liverpool's docksides, watching the hundreds of ships coming into and out of what was one of the world's busiest ports. Perhaps this 'inside knowledge' of Britain's maritime supremacy and Liverpool's strategic importance, is the reason why, during the Second World War, he was so determined to bomb the port and city into oblivion. Perhaps too, this is why he launched his relentless U-Boat attacks against British Naval Convoys, in and around Liverpool Bay, during what became known as 'The Battle of the Atlantic'.
Whatever is the case, and however he spent his time in Liverpool, by April 1913, he had outstayed his welcome. So, his half-brother bought Adolf a railway ticket back to Germany, put him on a train at Lime Street Railway Station, and the young man returned to his homeland.
Here, and at the outbreak of the First World War in July 1914, he found himself serving as a dispatch runner on the Western Front, in France and Belgium. He was promoted to the rank of Corporal, and was wounded at the Battle of the Somme, in October 1916. Again, records are unclear, but the wound seems to have been relatively serious, and was in his groin or thigh area. Whatever the specifics of this injury actually were, this led to the popular belief that he had lost a testicle as a result. This gave rise to the poignant little ditty that was sung by Allied soldiers throughout the war, to the tune of 'Colonel Bogey', and the opening line of which is, 'Hitler has only got one ball…!'
Whilst much of this story, so far, may be apocryphal, the rest however, is history.
In 1942, Adolf Hitler stated firmly that he had no family, declaring that "I belong only to my people." But the eventual discovery of Bridget Hitler's manuscript, by the English historian Robert Payne (1911-1983), seemed to throw new light on this: Especially when Payne, in 1973, wrote 'The Life and Death of Adolf Hitler'. This book is what the Liverpool author, Beryl Bainbridge (1932-2010), used as a basis for her 1978 novel, 'Young Adolf'. In this story, she develops Bridget Hitler's narrative to tell her own tale of the miserable young Austrian's time in the City.
The marriage between Alois Hitler Jnr. and Bridget Dowling was not a happy one. Alois seems to have shared some family traits and was violent towards his wife and child. He returned to Germany but Bridget refused to go with him, staying in Liverpool with her son. In 1924, Alois contracted a bigamous marriage in Germany, although Bridget eventually agreed not to prosecute him, providing he agreed to financially support herself and William. However, none of these payments ever materialised!
Records say that, by 1934, Alois Hitler was a right-wing politician running a restaurant in Berlin. It also seems that William visited Germany a number of times in the early 1930s, but his uncle, now the Fuhrer, refused to acknowledge or support him. Equally, it seems that Hitler and his half-brother were never close. There respected historian, Professor Sir Ian Kershaw, states that,
"Adolf Hitler never really had a great deal of time for him. During the Third Reich when Adolf Hitler had reached the pinnacle of power, Alois had very little to do with him. Afterwards he changed his name and lived in obscurity and died, I think Hamburg, in 1956. So, no evidence of a close relationship between the two men."
After his failure to gain his uncle's patronage William Hitler returned to his mother in England. By this time they were both living in London. However, as the war began to loom they moved to America.
Here, in 1939, Hitler's nephew went on a lecture tour of the USA, accompanied by his mother, and also writing a sensationalist book entitled, 'What the German People are Really Thinking'. He also applied for American citizenship, which was granted and, in 1944, he joined the American Navy. Here, he saw active service, fighting against the forces of his uncle.
When he was discharged from the Navy, in 1947, William Hitler changed his name to 'William Patrick Stewart-Houston'. He went on to marry a German girl, names Phyllis, and the couple set up home in Long Island, New York. Before William died, in 1987, he and his wife had four sons; Alex (b.1949-), Louis (b.1951-), Howard (1957-1989), and Brian (b.1965-). There is a wholly unsubstantiated story that his three surviving sons, who still live in New York, have made a private agreement not to marry or have children to help the Hitler name die out.
A former editor of the Liverpool Echo newspaper, Mike Unger, has written an excellent book on this story, 'The Hitlers of Liverpool', which is recommended to those who want to further explore this peculiar but plausible story. However, there is a final and ironic twist to this tale:
During the war Liverpool was the most heavily-bombed city in Britain, outside London, and all of Merseyside was subjected to saturation bombing by the German Luftwaffe. The final air-raid on the City took place on 10th January 1942, and amongst the houses damaged were a number of properties on Upper Stanhope Street, including number 102! The site was eventually cleared of debris, and all that now remains of the house where Adolf Hitler may (or may not) have stayed in Liverpool, is a rather pleasant square of open grass, set in an ordinary housing estate in Toxteth.