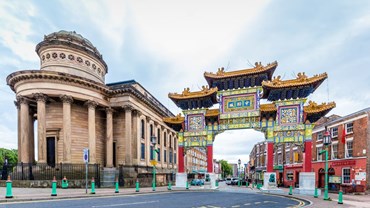 Liverpool is blessed with many public works of art, of varying historical, social, or cultural significance, and artistic relevance. One of the most spectacular though, and of powerful significance today and historical relevance, is the Chinatown Arch, or Paifong.
The first significant numbers of Chinese immigrants arrived in Liverpool in the 1850s, which led to the City once being home to the largest and oldest Chinese community outside mainland China. Because of this Liverpool and Merseyside have well-established and friendly links with that country. In fact, Liverpool was officially twinned with the city of Shanghai, in 2000.
In that year too, and as symbol of this friendship, a beautiful Chinese Arch was erected at the top of Nelson Street, acting as a welcoming gateway into Liverpool's still sizeable and thriving Chinatown. Currently, there are more than 10,000 Chinese people living in and around Liverpool, and many new apartments, homes, shops and other amenities are being built on previously derelict land in the neighbourhood. This will considerably increase the size of Chinatown, which may also soon qualify for its own railway station.
The Arch, or 'Paifong', stands at a height of 44 feet (almost 14 metres) and is the largest arch of its kind outside China; Liverpudlians of all races are very proud of it.
Built in Shanghai of wood and marble, at a cost of £700,000, the spectacular structure was designed by Mr Zhang of the South Linyi Garden Building Company and built by their highly-skilled artists and craftsmen. It was then dismantled and shipped to Liverpool where it was reassembled by eight Shanghai painters, carvers, and engineers. They worked every day for three months and only took three days off during the entire time.
Protected by two, large bronze lions, the site for the Arch was carefully selected by Feng Shui Masters to ensure good fortune to the local community.
As well as its five rooves and many other design features there are 200 dragons carved into the Arch. Twelve of these are pregnant, which is considered a sign of very good fortune indeed. This combination of art and architecture is painted in five primary colours, each of which represents one of the five elements of Chinese mythology.
These are Yellow ~ representing Earth:
Green ~ representing Wood:
White ~ representing Metal:
Black ~ representing Water; and
Red ~ representing Fire.
In the centre of the huge central span is a plaque on which are written Chinese characters that read (from right to left, naturally) "Zhong Guo Cheng". These translate as "Chinatown" or, to the Chinese "Middle Kingdom". From around 1,000BC that was the name that the Chinese gave themselves. This was a time when the ancient peoples of the central plains of China believed that they were at the centre of the earth. They also believed they were the only true civilization completely surrounded by a world of barbarians, therefore they were midway between earthly ignorance and the enlightenment of paradise ~ hence 'Middle Kingdom'.
Despite what it says on the Paifong, Liverpool's modern Chinatown is just one of many cultural and ethnic communities that go to make up this outstanding, diverse, Capital of Culture. Unless, of course, one takes the view that the arch is a symbol of the fact that all of Liverpool and Merseyside are, in fact, the real 'Middle Kingdom'!